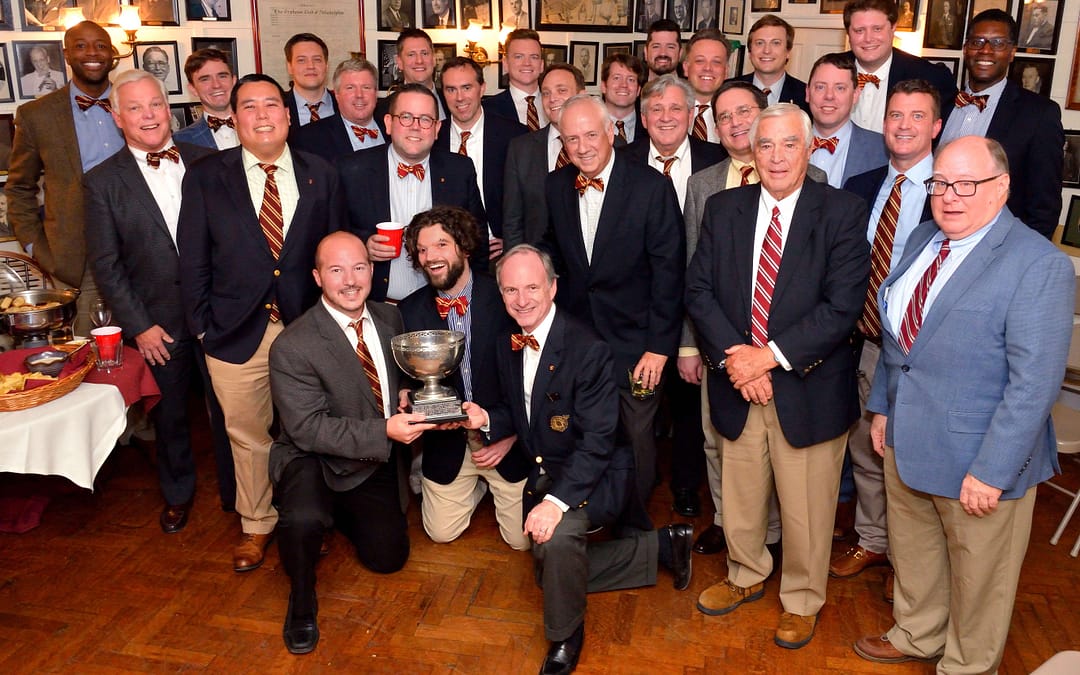 This year was our 14th straight Quartet competition and the FIFTH year in which lucky Associates got to enjoy a delightful cocktail party followed by spirited and melodious performances by well-rehearsed quartets.  Then the Associates got to vote for the winning quartet, who get both bragging rights and the opportunity to perform for everyone at the Mid-Winter Concerts.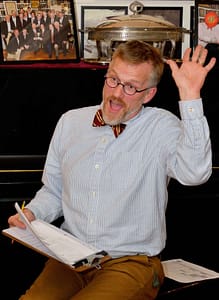 The festivities got underway back on Oct 29th with the semi-finals at the Clubhouse after our normal Monday night rehearsal – hosted by Event Co-Chairs Mike Liggera and Alfred Bergbauer.  This year we had a new high of nine quartets competing, and all the singers are shown above at the semis (with Christian Bergbauer kneeling-in for his traveling dad). 
As usual, Maestro John Shankweiler was there to pass on constructive feedback to help the quartets focus their pre-Finals rehearsals and also to suggest the performance sequence for the Finals. 
On Saturday evening, Nov. 11th, approximately 110 Associates and guests joined 40 Singing Members and guests at the Clubhouse for the Finals Event, starting with an hour and a half of cocktails and delicious hors d'oeuvres by Chef Maureen (aka Club Manager). Then the Quartets could no longer be restrained.  MC'd with an unbeatable combination of wit and brevity by Sam Griffin, the nine quartets showed what some themed outfits, four wigs and a lot of productive rehearsal can deliver.  After the last quartet had sung, the contest moved firmly into the 21st century by collecting votes via smartphone texting!  And the assembled Singers got to do only three numbers before Maestro Shankweiler was ready to announce the results, or as Sam put it, "to instantly make 4 friends and 32 enemies!" 
IN THIRD PLACE
with a beautiful rendition of "Oh, Danny Boy," the Shamrock Shakes: Mark Still, Zach Augustine, Brad Richards, and Derrick Smith.
IN SECOND PLACE
Imploring us all to "Sing!" Cleveland Street:  Brad Schrader, John Church, Alex Feldman & Mike Liggera.
AND THE WINNERS!
In the throes of a full version of Freddie Mercury's "Bohemian Rhapsody" (go see the new movie), prophetically named Fourgone Conclusion: T.J. Griffin, Dwayne Grannum, Zach Augustine (again), and the good Reverend Sean Mullen.
And here they are (Zach, T.J. Sean & Dwayne) celebrating with their trophy.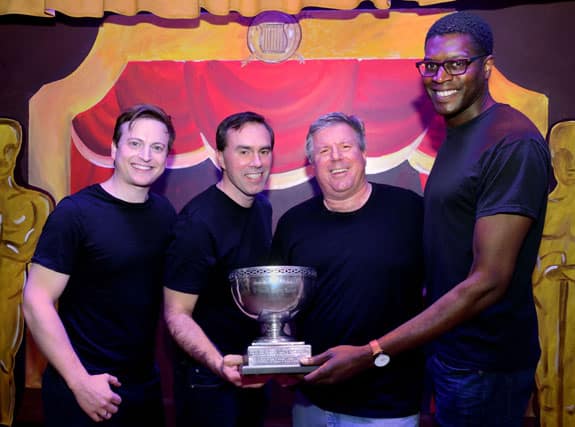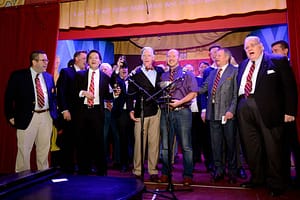 As fate would have it, the winners have a scheduling conflict on one of  the two nights we're presenting the Mid-Winter concert at the Union League, so the very entertaining Cleveland Street will also get to perform for our Associates and guests.
At the end of the evening, we all celebrated a great event and said thank you to Alfred and Mike for their musical, organizational and technological skills.  LETS DO IT AGAIN, NEXT YEAR!