2018-2020 Administration
Officers of the Executive Committee
President: F. Jonathan M. Turner
Vice President: Timothy Weymouth (past Treasurer)
Treasurer: Morgan Maxwell
Secretary: William Handy Sr.
Librarian: James Rockafellow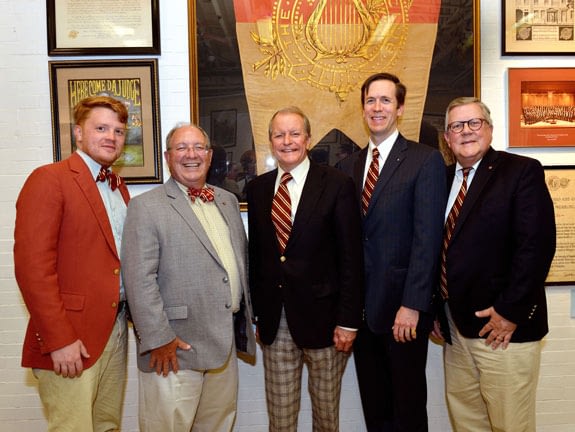 Our current executive committee officers.
Executive Committee
Judd Van Dervort (past President; and next Nominating Committee Chair)
Michael Liggera (past Secretary)
John Church
Frank DeSimone
John Haslett
Winfield Dougherty
Jeffry Frisby
Lawrence Choi
Main Committee Chairmen:
Music Committee Chairman: Timothy Weymouth (Vice President)
Revels Chairman for 2019: Matt Lewis
Historian: Steven Ujifusa
Committee on Active Membership Chairman: William Handy Jr.
Committee for the election of Singing Members
Associate Membership Chairman:  Lawrence Choi
Committee for the onboarding of Associate Members
Associate Member Advisory Council (AMAC) Co-Chairmen:  Lawrence Choi (Singing Member) and Dr. Val Sauri (Associate Member)
The AMAC concentrates on Associate member retention. Lawrence has also set up a parallel committee called "Associate Membership Acquisition Committee" with mostly Singing Members involved.
Conductor and Accompanist:
Conductor: John Shankweiler
Accompanist: Mark Daugherty
Other Key Positions:
Fundraising Chairman: Jeffrey Frisby
Standing Committee Chairman for our 150th Anniversary: Gary Canner
Investment Committee Chairman: John Church
House Chairman: Judd Van Dervort
Outing Chairman: James Rockafellow
Beverage Chairman: Timothy Ratner
Outreach Chairman: Robert Gunther
UGC Liaison: Russell Gunther
Club House Scheduling/Rentals, and Wall Accoutrements
Oversight: Fred Wampler
Christmas Party Chairman: James Price
Certain Associate Events: Tim Ratner 
Webmaster and Email Marketing: Jon Crowell
Stage Works: Bill McMichael
Colors: Rich Walkup, assisted by Mark Still
Concert Recordings: Alfred Goodrich
Concert Program Books: Lawrence Choi assisted by Robert Richard, Tim Lengel and Zachary Taylor