What Is Revels?
The Twelfth Night Revels are part of a long-standing tradition that highlights the Orpheus Club season year after year. An irreverent and humorous musical production staged by a select group from within the Club, our Revels feature original arrangements (and sometimes lyrics) to songs loosely linked by a topical plot line. The music includes a wide variety of styles, and all roles are played by OC men in stunning and sometimes outrageous costumes and make-up.
No Recording Please!
Please remember the Club's policy regarding privacy and the recording of pictures and video inside the Clubhouse. Note that if you are found snapping pictures or video during the performance, the device will be taken from you by an usher or club officer. You will be asked to delete the images in exchange for its return. 
What Do I Need To Know?
DRESS CODE:
Formal attire is requested (including black tie for the gentlemen) except at any matinee when you are welcome to wear business attire.
TIMING:
Evening shows begin at exactly 8:30pm so please arrive at least 15 minutes early to take your seat. Drink service will be available to those seated before the performance, so please do not visit the upstairs bar before the show. 
Any empty seats at curtain time will be reassigned to standing room patrons. Another reason to show up on time!
TICKETS:
Ushers at each performance will have a complete record of all seats assigned if you have forgotten your ticket. They will help make certain you fully enjoy your evening at the Orpheus Club. 
DINNER:
For the first time, dinner reservations at the Clubhouse are now available for Associate Members on the evening they are attending a Revels show. Dinner begins at 6:00pm and ends at 8:00pm to clear the dining area for the cast.
AFTER PARTY:
After the show, an open bar and generous buffet of cocktail fare will tempt you to extend your visit to enjoy the company of fellow members and our traditional roundtable of songs both old and new.
Smoking is only permitted in the clubhouse AFTER the show upstairs in the bar area where we have air handlers and fans. No smoking is allowed out on the street!
LEAVING THE CLUB:
To be a better neighbor on our unique residential side-street, we are enforcing a no-cars policy after 10 pm. This means that personal auto or "Uber" pickup must not be made on Van Pelt Street.
Please request auto pickup at the north or south end of Van Pelt Street at the intersection of Locust or Spruce. Elderly or handicapped patrons are excluded from this restriction. All guests are asked to be quiet and respectful of our neighbors as you exit the Club after a night of fun. 
Note: The Orpheus Club closes at 1:00 am on Revels performance nights.
 When and Where?
The show is presented at the OC clubhouse at 254 S. Van Pelt Street, PLEASE ARRIVE EARLY! All remaining performances begin at 8:30pm sharp. 
Any show cancellations due to inclement weather will be posted to this page by noon on the day of the show. 
2019 Performance Schedule:
Week #1
Friday, January 25th 2019, 8:30pm
Saturday, January 26th 2019, 8:30pm
Sunday, January 27th 2019, 3:30pm matinee
Week #2
Thursday, January 31st 2019, 8:30pm
Friday, February 1st 2019, 8:30pm
Saturday, February 2nd 2019, 8:30pm
Week #3
Friday, February 8th 2019, 8:30pm
Saturday, February 9th 2019, 8:30pm 
Thank You!
We're blessed to have a club and families that give us this opportunity to strive at something we love with people we love.
We hope that you enjoyed the show as much as we enjoyed delivering it to you.
The hit HBO series Game of Thrones may be returning to television in April, but the Orpheus Club knows how the story really ends. 
Find out more in our 2019 performance of …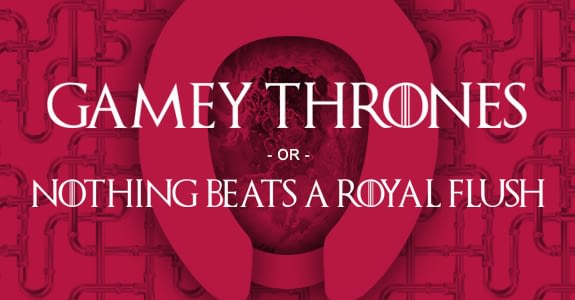 Two queens battle for the Iron Throne of Worsteros – the world's ONLY flushing toilet. Meanwhile, the Night King and his unstoppable zombie army threatens humanity's very existence.
Can the queens set aside their differences and stop the unstoppable, or will their battle for the head leave them headless?